CHAIRMAN'S WELCOME MESSAGE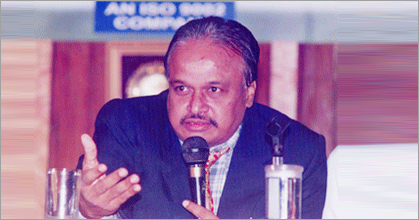 "THINK EXECELLENCE - ACHIEVE GLOBAL"
Shri R.J.A.Raj - Chairman & Founder



It gives me a great pleasure in welcoming you to SIMPRA Educational Institutions. which is a truly- International institute and we actively encourage students from around the world to come and be part of our community. You will find staff ready to respond to your individual needs and designed to encourage you to reach your full potential. Our residential and social facilities are excellent and our modern campus provides an ideal environment for study and living.

SIMPRA Educational Institutions have evolved a unique educational programme blending futuristic needs with developmental skills that are essential for students of higher and professional education. With our state-of-the art infrastructure, the students will be acclimatized to proficient work culture and in the end, they emerge as efficient professionals that the industry desires to have.

Higher education has an independent as well as instrumental value, i.e., the purpose of higher and professional education must be not only to rationalize the attitudes of the students but also to impart knowledge and improve their professional skills. Quality education should orient national development that should aim at training the younger generation in life skills, self-reliance, personality development, community service and social integration. SIMPRA Educational Institutions have inherited these principles which promise to give our students a unique opportunity to develop knowledge and hone their skills.

You will receive a great welcome at SIMPRA and I am delighted to commend the Institute to you".

I wish you to do the very best in all your future endeavors.
R.J.A. Raj
SIMPRA Educational Institutions
Chairman
Email: raj@simpra.co.in
About SIMPRA

SIMPRA is a recognized organization for doctoral research and maintains a close collaboration with universities of academic interest leading to Diploma, P.G. Diploma, M. Phil. and Ph.D. degrees. Student's projects for various Post-Graduate courses of Biotechnology, Microbiology, Biochemistry, Pharmacology and Bioinformatics are also facilitated to the students. In this regard, in collaboration, IECD, BHARATHIDASAN, SIMPRA offers Post graduate Diploma in Bioinformatics (PGD-BI), Advanced Post graduate programme in Biotechnology Management (APP-BM), Post graduate Diploma in Clinical Research (PGD-CR) and Certificate course in Herbal Medicine (CP- HM)
SIMPRA is offering an advanced certificate courses on hands-on-training in advanced molecular biology and herbal technology. SIMPRA offers a variety of programmes and hands-on-training specially tailor made for students wishing to learn and obtain hands on experiences in the state- of-the-art instrumentation facilities and recent techniques and advances in Molecular Biology Biotechnology, Biochemistry, Microbiology Phytochemistry, Industrial Pharmacology & Herbal science. SIMPRA programmes are designed to impart valuable personalized training and hands on techniques so that each student is exposed to the exciting field of life sciences & its vast career possibilities.
CHAIRMAN'S ROLE MODEL late Shri Dhirubai Ambhani
The SIMPRA chairman R.J.A. Raj met regularly his role model –late Shri Dhirubai Ambhani of Reliance Industries Limited at Late Shri . G, Ramasamy's former Attorney General of India) residence in the year of 1991.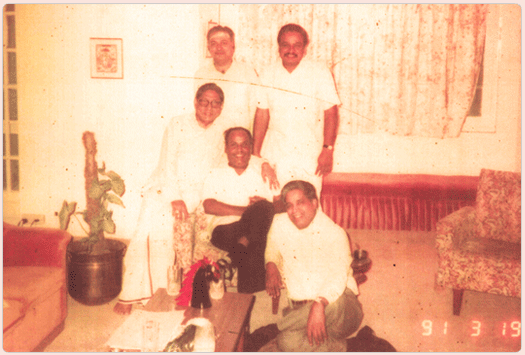 Sitting on the chair: late Shri.Dhirubhai Ambani, Reliance Industries limited. Sitting on the arm of the chair: late Shri.G.Ramasamy, former Attorney General of India. Sitting on the floor: Shri.R.V.Balasubramaniam, Vice President Reliance Digital Retail Ltd, (Who is helping SIMPRA chairman's Philanthropical activities) Standing from left to right: Dr.T.N.Ramachandran and Shri.R.J.A. Raj, Chairman SIMPRA.
SIMPRA training Programmes will challenge participants to think, participate in hands- on activities, collect data, analyze and interpret findings, & draw conclusions based on their findings and observations. And finally participants learn how to relate and employ what is learnt in the class room to the real world of science, a skill that is the hallmark of quality education.
SIMPRA also offers Biotechnology Lab & Safe Practices consistent with our aim to provide biotechnology training of international standard. The training programmes begin with training in the standard requirement of working in modern biotechnology laboratories. Students are given training in safe working practices in a biotechnology working environment. This session is meant to help students understand how to conduct themselves in modern biotechnology laboratories and lay the foundation for subsequent lab sessions.
SIMPRA regularly organizes industrial training programmes on "Molecular and Analytical Techniques", "Proficiency Programmes". It conducts courses on "Current Good Laboratory Practice (cGLP)" and "Industrial Training in Pharmaceutical & Herbal medicines".
Considering the significant contribution of SIMPRA in the field of biotechnology, the NSTMIS division of the Ministry of Science and Technology, Govt. of India has sanctioned a project entitled "Status of Biotechnology Teaching and Research in Colleges and Universities in Southern States of India".
Sharmila Pharma: A sister organization of SIMPRA
Sharmila Pharma through SIMPRA promoted research in drug testing and drug development for nearly two decades. Sharmila Pharma has received ISO 9002 certificate in 1994 from TVU, Rhineland, Germany, and Golden Peacock Award by the World Quality Council for their products in terms of standard qualities. Sharmila Pharma exports its products to Singapore, Malaysia, Sri Lanka and European Countries. It also has drug license for about 16 products in Malaysia.
Golden Peacock Award for the products brought out by Sharmila Pharma based on the technologies developed by SIMPRA in the year 1999 obtained from Institute of Directors, Delhi & World Wide Quality Management Network Ltd., U.K. in affiliation with Institute of Quality Assurance, U.K. and Quality Council, U.K.ISO-9002 Certification in the year 1994 obtained from TUV Rheinland- Germany.